Lead me to the Cross
In the Tomb
by Andrew Massiha
---
So you've probably just came out of the Good Friday service, ready to smash down anything you can get your hands on after not eating the whole day. The holiest week has come down to this. Abouna leaves us with the final psalm, "I lay down and slept."What next? Howdo I sustain my spiritual life?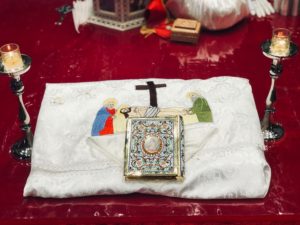 Let's go back one step, to the final church rite on Good Friday which is the burial of Christ.The burial begins with the deacons singing the famous hymn, 'Golgotha.'The tune of this beautiful hymn originates from the times of the pharaohs and this was the tune they used to bury their kings with. The church,initswisdom,combines our heritage with our faith and uses this tune in the burial of Christ with words which explain the events that have taken place on Good Friday. Whilst the hymn is being chanted,Abouna has prepared before him a white cloth filled with red rose peddles and anicon of the burial. He places the icon of the burial on the flower peddles and then puts fragrances and spices and wraps the cloth. He then places two candles or lamps on either side to symbolise the angels that were present at the burial, one at the Head of Christ and one at the feet.
So now that we know the events that have just taken place, what can we, as Christians, make of all this?
The first thing we ought to do is understand the significance of what a burial is. We know that a burial is the time when someone is put to rest as they have departed from this world. The weight of our sin has been lifted so we bury our sin and await our resurrected form in Christ our Saviour. The old has passed away and He is making a new creation out of us all. He is willing and able to change our sinfulness into righteousness, depending on what we are prepared to let go of. This Good Friday, what are you still holding on to? What stands in the way of you and theresurrection? During this time of burial, we must strive to hear the voice of our Lord saying, "Arise, go your way; your faith has made you well"(Luke 17:19).
We make a choice at thetime of burial. Do we choose to remain in the death of the tomb, with our sin, or do we strive for the glorious resurrection to come? We can leave Good Friday at, "I lay down and slept,"or we can strive to rise and carry on –"I awoke for the Lord sustained me!"
Let us therefore strive to leave the tomb with Christ,with our sins buried,and with our hearts filled with joy because the sin of man has been conquered and death has been destroyed!
The burial is the time that Christ overcomes the perils of sin. Those three days are crucial. For starters, if Christ was to immediately rise there would be speculation of whether He had diedor not. Beyond this, there is aprocess that our Lord completed before the resurrection could occur.During this time, Jesus firstenters Hadesand defeats Satan, taking with Him the souls of the righteous. We were finally able to enter His Eternal Kingdom.
We need to remember the process that Jesus took so that we cannot be so harsh on ourselves when we are trapped by a certainsin. Sometimes,we may have the perception that if we pray, if we fast,if we do 500 metanias, the sin will HAVE to go away. This is not always the case. There is a process. Just as Christ had to go through a process in Hades to defeat the devil and all his traps set against us, we too,as Christians should learn a key lesson from this, that is, to understand the sin that I am fighting will take time to overcome. There will be ups and downs, but I have assurance in that Christ conquered death and the devil so there will be victory, no matter how unlikely in seems in the moments of shame of sins committed and repeated.
Good Friday gives us the extra push we need to leave our sins on the Cross and be made new. The questionsI must ask myself are, at the completion of Good Friday, has all holiness departed from me? If your final day is tomorrow, would you be prepared to enter the Kingdom of Heaven? Are you spiritually ready to depart from thisworld just as Christ was ready, or is there something in this world still holding you back? Our Salvation came at a price. Time and effort for genuine repentance and prayer are what is required of me to be prepared for the resurrection that follows the burial.The resurrection is so close now and we must be sure that we rise a new creation!
May the burial of Christ remind us of the love God has for us, that He was willing to die on the Cross, rescue us from Hades and give us salvation through His Blood, to complete His creation, that is, you and me alike.