Dear All,
The Lounge Show airing tonight has been updated:
The Lounge Show – Tuesday 13 April
Tune in to St Mark's Live YouTube channel for the next episode of The Lounge Show on Tuesday 13 April at 8 – 9pm.
Topic is How to bridge the cultural gap, with Fr. Michael Fanous and Fred Khoury.
Updated poster below.
شعب الكنيسة المبارك،
تحديث عن برنامج The Lounge الذي سيتم بثه هذا الأسبوع
برنامج The Lounge – الثلاثاء ١٣ أبريل
استعد لمشاهدة الحلقة الشهرية لبرنامج The Lounge مباشرةً على قناة اليوتيوب الخاصة بسانت مارك يوم الثلاثاء الموافق ١٣ أبريل من ٨ – ٩ مساءً
الموضوع "كيف تتخطى الخلافات الثقافية" مع أبونا مايكل فانوس وفريد خوري
البوستر مرفق أدناه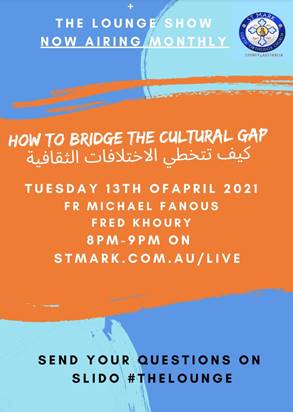 God bless