Dear All,
Please note the Bereavement Announcement of beloved Albert Mikhael:
"I have fought the good fight, I have finished the race, I have kept the faith." II Timothy 4:7

Our beloved Father Albert Mikhael peacefully departed to Heaven into the arms of our Lord on Saturday 18th November 2023.
Albert is the Father of Eman Mikhael and her husband Mourad and Ayman Michael and his wife Amany, Grandfather of Michael Mikhael and Ramy Mikhael, Olivia Lansing and her husband Ramez, Engy Hanna and her husband Mina, and Ann Michael, Great Grandfather of Ethan Hanna, Sophia Lansing and Noah Hanna.
Condolences will be received at St Mark's Coptic Orthodox Church, Arncliffe on Tuesday 21st November in the Arabic church 7pm – 8pm.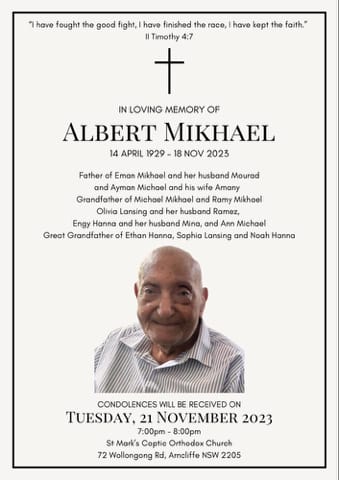 "قَدْ جَاهَدْتُ ٱلْجِهَادَ ٱلْحَسَنَ، أَكْمَلْتُ ٱلسَّعْيَ، حَفِظْتُ ٱلْإِيمَانَ"
تِيمُوثَاوُسَ ٱلثَّانِيةُ 4:7
انتقل الى الامجاد السماوية في حضن إلهنا الحنون أبينا الحبيب ألبرت ميخائيل يوم السبت 18 نوڤمبر 2023
ألبرت هو والد إيمان ميخائيل وزوجها مراد وأيمن ميخائيل وزوجته أماني.
جد مايكل ميخائيل ورامي ميخائيل، أوليڤيا لانسينج وزوجها رامز، إنچي حنا وزوجها مينا، وآن مايكل, جد إيثان حنا، صوفيا لانسينج، ونوح حنا.
سيتم استقبال التعازي في كنيسة القديس مار مرقس القبطية الأرثوذكسية، أرنكليف، يوم الثلاثاء 21 نوڤمبر في الكنيسة العربي الساعة ٧-٨ مساءً.