Dear All,
Please note the Bereavement Announcement for beloved Talaat Mansy Abdelmalek:
His Lord said to him, 'well done good and faithful servant; you have been faithful over a few things, I will make you ruler over many things. Enter into the joy of your Lord' ~ Matt 25: 23
With a firm hope in the Resurrection of Jesus Christ, we announce the departure of the beloved
Talaat Mansy Abdelmalek
20.01.1941 – 28.07.2022
Beloved husband of Mrs Thoria Habib Tanus in Canada. Treasured father of Magy Talaat Michael, wife of Dr Wadie Michael in Australia; and Wael Abdelmalek, husband of Dr Dimiana Botros in Canada. Grandfather of Monica Michael, wife of Dr Fady Fahim; and Merna Michael in Australia. Also, grandfather of Steven Abdelmalek and Timothy Abdelmalek in Canada. Beloved brother to the late Magdy Mansy, Adel Mansy, Jano Mansy and Susane Mansy in Egypt.
The family will receive condolences on Saturday, 6th of August from 6:30pm – 7:30pm.
The gathering will be held at St Mark Coptic Orthodox Church, Arncliffe, Australia (church hall).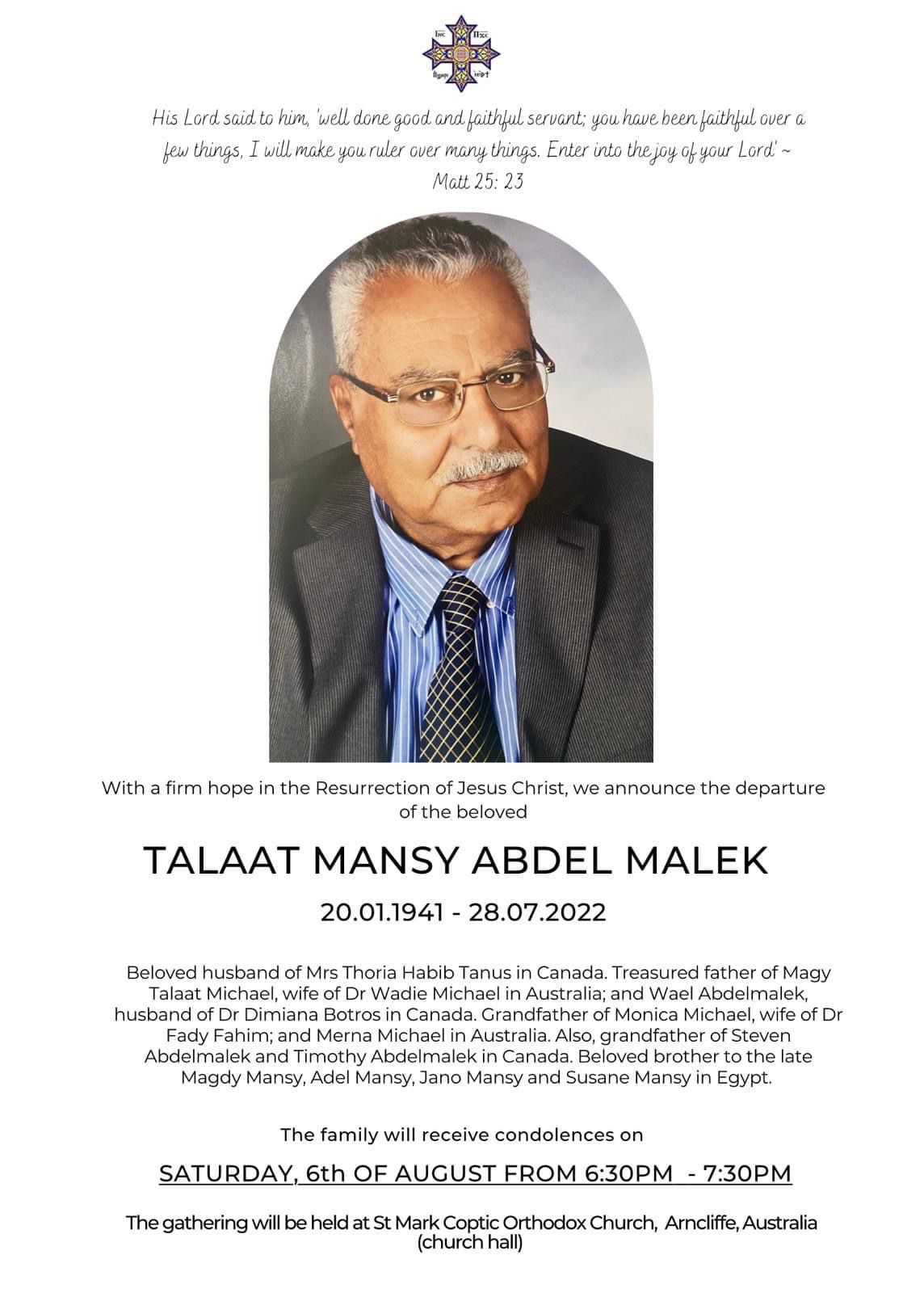 ‎قال له سيده نعمًا أيها العبد الصالح الأمين. كنت أمينًا في القليل فأقيمك علي الكثير. ادخل إلي فرح سيدك
‎ متي ٢٥:٣٢
‎إنتقل علي رجاء القيامة و الفرح الأبدي
‎المهندس: طلعت منسي ميخائيل عبد الملك
‎زوج السيدة: ثريا حبيب طانيوس بكندا
‎ووالد كل من
‎ ماجي طلعت مايكل زوجة الدكتور وديع مايكل بأستراليا. ووالد المهندس وائل عبد الملك وزوجته دميانه بطرس بكندا
‎وجد كل من
‎ مونيكا مايكل زوجة الدكتور فادي فهيم وميرنا مايكل بأستراليا
‎والمهندس ستيفن عبد الملك و تيموثي عبد الملك بكندا
‎والمتنيح شقيق كل من
‎المتنيح مجدي منسي و عادل منسي و السيدة جانو منسي و السيدة سوسن منسي بمصر
‎ستتقبل الأسرة العزاء يوم السبت الموافق ٦ اغسطس ٢٠٢٢ في تمام الساعة ٦.٣٠ – ٧.٣٠ مساءًا
‎ وسيقام العزاء بكنيسه القديس مارمرقس بانكليف باستراليا